PRESS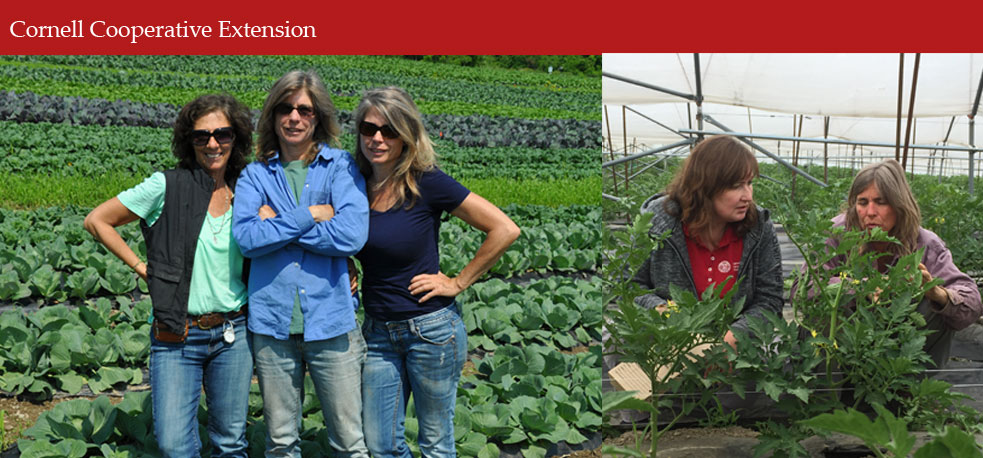 In January 2018, CORNELL COOPERATIVE EXTENSION features Hepworth Farms in Milton, New York, operated by Amy Hepworth, Gail Hepworth and Gerry Greco. Being on the Hepworth farm over the past 17 years has truly been a learning experience. There are always new pieces of land Amy is reclaiming, new varieties of vegetables Gail is seeding, and new pests Gerry is taking me out to a field to identify.
>> Read More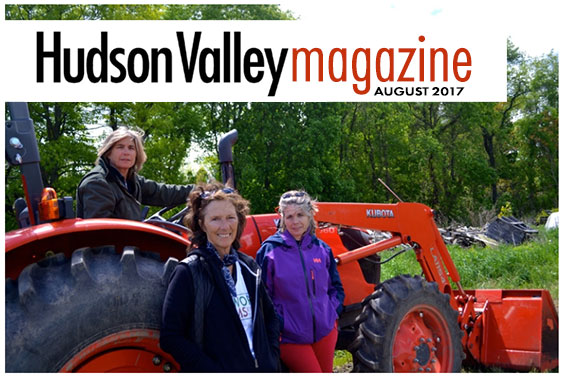 Amy Hepworth, one of the region's largest-scale and most innovative organic farmers over the last four decades, wants us to understand that "organic is just a box." While everything she and partners Gail (Amy's sister) and Gerry do on their 500-acre Orange County farm is certified organic, she emphasizes how "every movement has a beginning and an end." This individualism and breadth of agricultural knowledge make her a candidate to lead farmers into new ground...
>>Click here to read the complete article.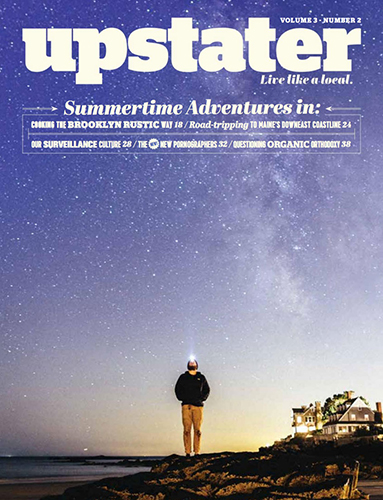 GET GROUNDED
When Amy Hepworth, farmer and cult hero, questions organic orthodoxy, it's time to pay attention...
>>Click here to read the complete article.

Amy Hepworth's life's passion is feeding people. Back in 1982, Cornell University degree in pomology fresh in hand, she took the reins of Hepworth Farms, a nearly 200-year-old apple farm in New York's Hudson Valley, and changed everything. Crop diversification was only part of a larger transition to sustainability...
>>Click here to read the complete article.

I am a seventh-generation family farmer in Milton, New York, in the Hudson River Valley. After graduating from Cornell with a B.S. pomology in 1982, I adopted an alive systems approach to farming, practicing organic and sustainable agriculture. Today, Hepworth Farms has 400 acres of NOFA-certified production land growing more than 400 varieties of organic vegetables...
>>Click here to read the complete article.
HEPWORTH FARMS - BEYOND ORGANIC
Article in the The Valley Table - Summer 2015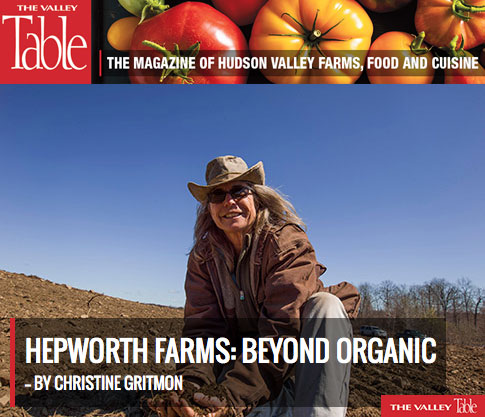 Farming isn't–or shouldn't be–just about growing food. That's the philosophy of someone who knows a little bit about it: seventh-generation farmer Amy Hepworth of Hepworth Farms, in Milton. "We're consistently working in this paradigm of ecological, economic and social justice," she emphasizes. "Working within that framework, we feel that we can achieve a food system that benefits all."
Hepworth Farms was established in 1818 and opened up a long-standing roadside market 100 years later. The current (seventh) generation of the family on the farm included five children; among them, Amy stood out as the logical pick to head the farm operations.
ORGANIC STANDARDS FIGHT OVER SYNTHETICS SHOWS THERE'S ROOM FOR A THIRD SYSTEM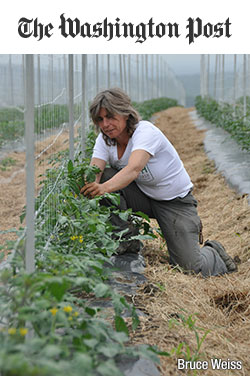 Organic regulations don't seem as incendiary as those for, say, gun control, but police had to be called to the last meeting of the National Organic Standards Board when it was interrupted by protesters representing one side of a very acrimonious debate. At the heart of it is the use of synthetic substances in organic agriculture. Currently, some synthetics are allowed, and they automatically come up for review every five years. The protest was over a rule change that would have made it more difficult to remove those items from the list. It might seem arcane, but the fact that handcuffs were involved gives a clue to its seriousness.
Amy Hepworth, an organic farmer in New York's Hudson Valley, also believes in the importance of soil health and working with nature but says that science and technology, deployed judiciously, can help her do just that, sometimes with fewer adverse effects than natural substances. "Natural doesn't mean safe," she says...
>>Click here to read the complete article.

BALDOR RADIUS 250 - FARMER OF THE MONTH!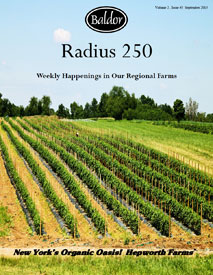 Hepworth Farms is one of Baldor's newest sources for superb quality fruits & vegetables. It's also an organic farm certified by NOFA. Family owned and run by a team of women who are dedicated to providing amazing whole-some products. The farm is located just over an hour north of Baldor's New York warehouse. Since our first introduction to the Hepworth produce in July, their produce has been generating a lot of excitement. The Hepworth family farm was established in 1818 and is run today by sisters Amy and Gail Hepworth along with Gerry Greco.
>>Click here to read the complete article.


HEPWORTH FARMS: THE SEVENTH GENERATION
By Brian Dentz
Imagine being able to go to a farm and ask them to plant exactly what you'd like to see end up on your dinner table. That's the kind of relationship the Coop has with Hepworth Farms, run by twin sisters in the Hudson Valley.
"That farm is a very big deal to us and we are a big deal to them," said Allen Zimmerman, a General Coordinator at the Park Slope Food Coop, which has been buying produce from Hepworth Farms for 30 years. Today, Hepworth is the Coop's largest local supplier of fruits and vegetables.
WNYC INTERVIEW WITH HEPWORTH FARMS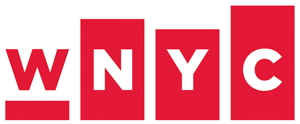 Gail Hepworth, the production manager of Hepworth Farms in Milton, N.Y., is a particular fan of the the eggplant. Her farm grows more than 15 types of eggplant for community supported agriculture groups and the Park Slope Food Co-op.
Hepworth thinks that eggplant's negative association might have been caused by its mild toxicity. Like tomatoes, peppers, potatoes and other nightshade vegetables, eggplant contains solanin, an alkaloid that can be toxic in large quantities. Younger eggplants tend to have more solanin, but unless you're particularly sensitive to it, you'd have to eat about 36 raw eggplants for solanin levels to be dangerous.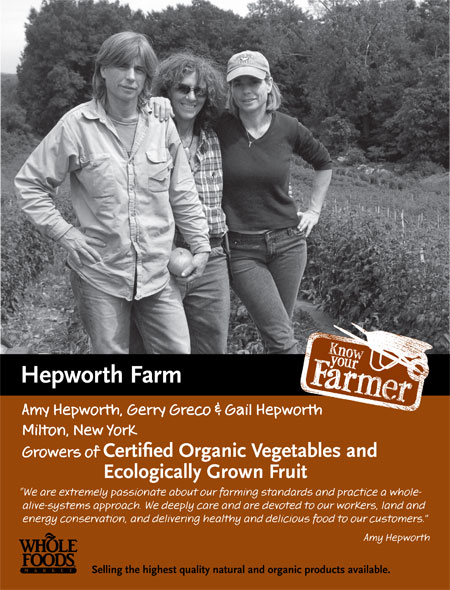 FOOD BANK OF THE HUDSON VALLEY ARTICLE
The Regional Food Bank of Northeastern New York and its branch, the Food Bank of the Hudson Valley, work closely throughout the year with many farm partners. The donations they receive have a direct impact in communities across the 23 county service area. Hepworth Farms donates food to the bank. >>Click here to read the article.
PRN - Progressive Radio Network Interview
Paradise Parking Lot hosted by Steve Barnett
Interview with Amy Hepworth
An in-depth interview with Amy Hepworth - Next Generation Organic Farming with 7th generation farmer Amy Hepworth